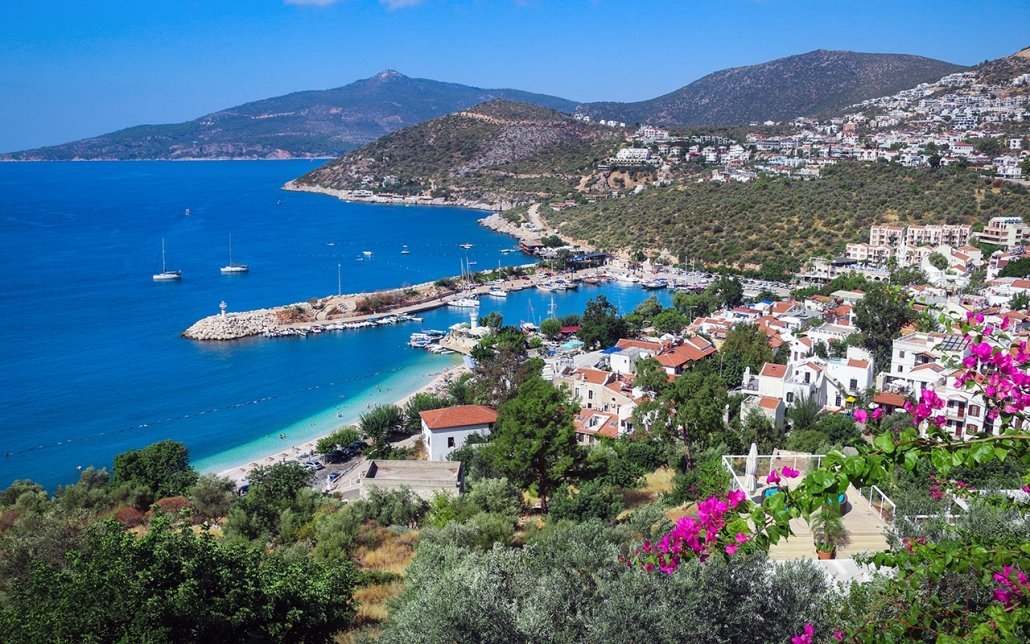 Are you looking for a suitable and reliable transfer company for Kalkan Transfer? Then contact Kalkan Vip Transfer without wasting time and start your Kalkan holiday without stress. You can spend wonderful journeys with comfortable vehicles, professional team and experience.
Antalya Airport Kalkan Transfer
When you choose a taxi for transportation from Antalya airport to Kalkan, you need to pay an average of 90 Pounds for the cheapest and short distance transportation. However, if you want to travel with transfer companies, the amount you will pay is half of the average taxi fares. With the transfer companies that bring quality and service together, your journey will be very short and costly.
How Many Kilometers Between Antalya Airport and Kalkan?
Many tourists who want to come to Kalkan prefer air transportation. The distance between Antalya airport and Kalkan is 205 kilometers and the journey takes 3 hours and 30 minutes. To reach Kalkan after landing at the airport in Antalya, introduce yourself to our professional drivers who greet you with your name after you collect your luggage at the airport terminal exit. Our transfer driver will give you a stress-free comfortable journey experience to your destination.
When you experience the difference and quality of the service you receive versus the price you pay, you will never want to choose taxis or other means of transportation.
If you want to go to Kalkan by buses from the airport, you have to go to Antalya Bus terminal first. However, you should know that these buses do not go out of certain routes. If your hotel is not located on this route, unfortunately, you will reach your hotel by getting off at a nearby location and walking with your suitcases or by taking a transportation vehicle again.
Here, Kalkan Vip Transfer is trying to ensure that domestic and foreign visitors start their holidays without experiencing this tiring process. Kalkanviptransfer.com, which provides service with very affordable prices, provides transportation to the door of your hotel. You can reach us 24 hours a day, 7 days a week with our friendly and expert chauffeur staff. What you need to do is to make a car reservation from the websites of the companies before you come to Antalya.
How can you make a Kalkan Transfer Booking?
If you want to go to Kalkan, Antalya's tourism paradise for a holiday, you should first make your airport transfer reservation online. To make a reservation, choose the most suitable vehicle for you and fill in all your information. Then, check the confirmation e-mail and SMS you received and make sure that the information you entered is correct. Your driver will be waiting for you at the airport on the day of transfer.
Kalkan Transfer Vehicles
Kalkan, which is the holiday resort of our Antalya province that hosts the most tourists and is legendary with its luxury, of course, transfer vehicles are selected with the same care and allocated to the service of our guests. Providing service with its latest model vehicle fleet, Kalkanviptransfer.com pleases its guests with its vehicles equipped with all kinds of equipment for the comfort of passengers.
Kalkanviptransfer.com, which guests prefer to use again and again, also provides transportation with VIP vehicles for its guests. You can get the necessary information from our website https://www.kalkanviptransfer.com or customer representatives to benefit from travel opportunities in the luxury you want and according to your budget, and you can make your reservations in a few minutes.
Why Kalkanviptransfer.com in Kalkan Transfer Service?
Wide selection of vehicles
Quick Online Booking
Transfer service to all hotels in Kalkan
24/7 Live Support
Free Welcome
Up to 2 hours of free standby
Arrival Transfer to Kalkan
After you land at Antalya Airport, your captain will be waiting for you at the exit of the terminal with a sign with your name in his hand. Please find your captain waiting for you outside after receiving your luggage. Your captain will help you carry your luggage.
Transfer from Kalkan to Antalya Airport
On the return transfer from Kalkan to Antalya airport, our driver will be waiting for you at the previously specified time and location. Please be ready 10 minutes before the indicated time. If your flight is going to international destinations, board your vehicle from Kalkan at least 5 hours before the flight departure time.
How can I take advantage of Kalkan transfer services? One of the favorite tourist resorts located in the west of Antalya and connected to the district of Kaş is Kalkan. The town, where the Lycian Civilization lived for a period and where this civilization built numerous cities, contains many important historical monuments. This beautiful place, where you can find traces of a bygone era, and the old-smelling atmosphere of the area, decorated with the ruins of the city, attracts people.
The natural vegetation of Kas and the Mediterranean Sea surrounding the resort in blue are among the elements that make Kalkan valuable. In addition, it is rumored that it was founded 150-200 years ago by merchants from the Greek island of Meis, which is located nearby. Referring to the historical beauties of the region and the surroundings close to this region, many historical elements such as Antiphellos Ancient City, Patara Ancient City, Xanthos Ancient City, Tlos Ancient City, Letoon Ancient City, Sunken City Kekova Ancient City, Myra (Demre) Ancient City can be mentioned. For holidaymakers, Kalkan Public Beach, Kaputas Beach and Patara Beach meet their visitors. Among the natural beauties of Kalkan resort; Saklikent Canyon, Blue Cave, Decinlik Sea Cave, Pigeon Lair Cave are located.
We will meet you at Dalaman airport or Antalya Airport to provide transportation to the beauties of Kalkan Kalkanviptransfer.com with its staff, you can make a comfortable trip. Accompanied by a professional and friendly team, you can easily get to your villa, hotel or accommodation area. For these special transfer services, you can choose the type of transfer you want and complete your journey with the vehicle you want. These types of transfers; Private Transfers by Vip Vehicles, Private Transfers by Standard Vehicles and finally Economic Passenger Transfers for Congresses and Seminars are.
Kalkanviptransfer.com for questions and more information about their services, you can contact us by support or Whatsapp line, which you can contact 24/7, and you can make your trips easier. You can also make a reservation immediately for a fast and hassle-free transfer service.
In addition, Click here to get information about other transfer areas around Antalya..
Miraculous Beauties of Kalkan
Kalkan is one of the world-famous districts of our country. Kalkan, a district of Antalya, is one of the most preferred places for holiday by domestic and foreign tourists with its magnificent natural beauty. When it comes to Kalkan, it is a holiday resort where you can enjoy your holiday in every sense with its natural beauties as well as luxury accommodation, nightclubs where the fun does not end until the morning, and many restaurants.
The miraculous beauties of Kalkan are not an exaggeration, indeed, Kalkan and all the coasts of Antalya are Mediterranean paradises. Maquis forests and beaches and coves in every shade of blue are among the features that make this place magnificent. That's why this route is a unique alternative for those who aim for a great holiday. Kalkan; It is a very lively holiday resort in the summer months and many Mediterranean and international restaurants are waiting to serve you in the city centers. During the day, you can drink tea and cold lemonade at the cafes in Kalkan city center or spend time on the beaches. In the evening, many restaurants around the marina offer you romantic dinners with a wonderful view. At night, you will reach the peak of entertainment in the world-famous Kalkan nightclubs.
Frequently Asked Questions About KalkanTransfer
Important Considerations About Kalkan Transfer
Air Conditioned Vehicles
Free SMS
Vehicles Under 5 Years Old
24 Hour Customer Service
What Happens If My Flight Is Delayed?
If your flight is delayed, we are waiting for you at the airport free of charge.
For more detailed information, visit the Frequently Asked Questions tab.