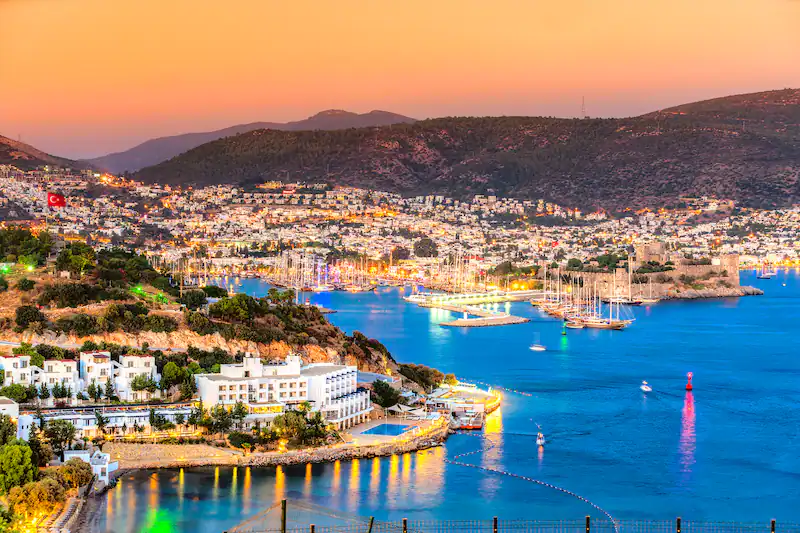 What is Bodrum Vip Transfer?
Bodrum Vip transfer is a private transportation VIP transfer service with Vip Mercedes Vito minivan and Vip Mercedes Sprinter minibus vehicles.
Vip Bodrum transfer has been chosen as the first one among the recommended VIP transfer companies by receiving the Selikya Travel Bodrum transfer company award given by Tripadvisor, which has been evaluated on the internet by the passengers who use it and has received the most comments.
Are you looking for a Bodrum transfer company that will offer you the best service among Bodrum transfer companies? We are working to offer you the best VIP transfer service experience with the cheapest Bodrum Airport transfer fees with our professional team.
With the best price guaranteed Bodrum transfer economical prices, you can reach anywhere you want with our Mercedes Sprinter Bodrum Private Transfer vehicles with a capacity of 16 passengers. Bodrum VIP Vito offers private transportation services with its Mercedes vehicle fleet and friendly experienced staff, with the cheapest Bodrum Airport transfer prices in the entire Bodrum Peninsula for 365 days.
Bodrum Private Transfer Locations
We are at your service 24/7 with our Bodrum Airport VIP transfer vehicles in the towns of Torba, Bodrum Merkez, İçmeler, Gümbet, Bitez, Ortakent, Yalıkavak, Gündoğan, Türkbükü, Gölköy, Yalıçiftlik, Kızılağaç, Gümüşlük, Turgutreis, Akyarlar, Kadıkalesi, and Güvercinlik.
We offer first-class Bodrum transfer services with the cheapest Bodrum transfer fees guaranteed, accompanied by the most luxurious VIP vehicles in Bodrum. Professional drivers, we are ready for your new comfortable and safer VIP vehicle needs. For your Bodrum Vip Transfer services needs, we offer special Vip Vito Bodrum Airport transfer services accompanied by Mercedes Vito vehicles.
We are here not for those looking for the best when looking for Bodrum Transfer services, but for those looking for the best. We offer Bodrum transfer services to your Bodrum hotels, Bodrum houses addresses, Bodrum marina and Bodrum Airport. You can get VIP transfer Bodrum Airport transportation services from anywhere, wherever and whenever you want on our website.
Would you like to get 24/7 transfer Bodrum VIP private transportation service in Bodrum? We offer you Bodrum economical VIP transfer services with the most economical price guarantee.
Bodrum Vip Transfer company is a corporate transfer company among Bodrum transfer companies, working with its own legal documents authorized by the Ministry of Transport of the Republic of Turkey, the Ministry of Tourism of the Republic of Turkey and the Association of Turkish Travel Agencies.
Your travels are under customer satisfaction guarantee with the Bodrum Vip Transfer Company, Group A Travel Agency, within Selikya Travel, and the assurance of Selikya Travel, the most well-known and reliable company in the sector.
Our Bodrum Vip Transfer vehicles also have a Türsab plate and a D 2 passenger transport authorization certificate. Our passengers who choose us receive Milas Bodrum Airport transfer and Bodrum Milas Airport transfer services with insured legal tourism vehicles, accompanied by our drivers with SRC 2 4 passenger transport certificates and Psychotechnical certificates.
When Bodrum Bus Terminal transfer services are needed, our vehicles and captains are always ready to provide you with bus terminal transfer service within the city of Bodrum. In addition to Bodrum city transfer services, you can also get Bodrum Airport Yalıkavak transfer services and Yalıkavak transfer VIP transportation service.
You can send us your Bodrum Vip Transfer comments and Bodrum Vip Transfer complaints and suggestions by filling out the form on our contact page, 24 hours a day, 7 days a week.
With the cheapest Milas Bodrum Airport fees and Bodrum Vip transfer services, Bodrum Airport transportation is not a problem at all. We offer you the best first-class private Bodrum transfer services.